I've
finally
made some headway in the designing of our wedding invitations. I was really procrastinating because I just didn't want to have to commit to any one design. Plus, I've been inspired by so many cool ideas that it became a task to translate everything into something unique to Jordan and me. But I realized that it's time to get this show on the road so I surfed on over to
Paper Source
. Before I could even begin to piece the components together, I found myself quite literally transfixed by the plethora of possible color combinations. I stared at my computer screen for a good hour (all the while, talking to myself) before I could even begin to make a decision. They just have way too many colors and styles of cards & envelopes to choose from (how dare they)! My brain was on color-overload and I was starting to get a headache. Anyways, here are the colors & styles I decided on: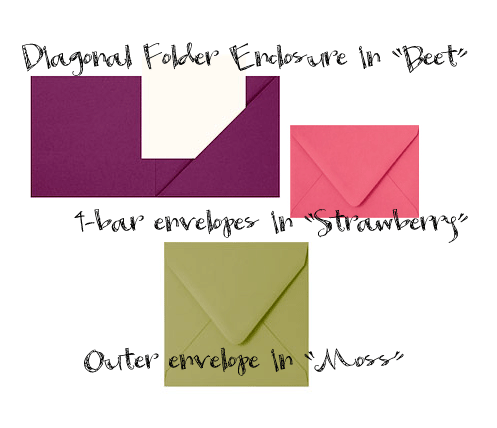 The color combination probably seems a little weird but I think it will go nicely with the botanical illustrations I have left over from the Save-the-Dates.
After making my selection and spending way to much money at Paper Source, I moved on to choosing the fonts for the invite. Because I plan on incorporating the botanical illustrations again, I don't want the invitation to become too image-heavy or overly-colorful. I decided that the invitation & response card will be text only, in black and white. Initially, I thought this would make my job easier but it turns out that selecting fonts is even more difficult than choosing colors and envelope styles! I eventually narrowed it down so that it will be a combination of three fonts: Today, Chopin Script and Print Clearly.
Today
(above) has a really cool, retro vibe that I fell in love with a few months ago when I saw it featured online somewhere. It's available for free download
here
.
Today
is reminiscent of the typeface used in old advertisements which I think are so cool. Like this one:
J and I are fans of any and all things Americana. They just don't make 'em like they used to anymore! I incorporated the same text stylization into my invite, i.e. the juxtaposition of the bold, blocky text against the more delicate text in italics and script as well as the play of serif vs sans-serif.
I realized I needed a font with a more elegant, calligraphic style. I chose Chopin Script.
The best feature of
Chopin Script
is its flourish-style capital letters, which are (obviously) prominent on the RSVP card. (Download for free
here
.)
Print Clearly
met all my needs for a sans-serif font and looks especially cool against the stylized
Today
and
Chopin Script
typefaces. (Available for free download
here
.)
Because it's an all-text invite, I didn't have to mess around with Photoshop, which was a definite plus. I just did the whole thing in Microsoft Publisher! It's not quite finished it yet so I don't have it ready to post. Soon, though.